What's the best way to celebrate a new book?
How does a $25 gift card sound? I thought so!
What if I told you there were multiple giveaways?
Even better!
For 24 hours, we'll be celebrating the release of Silverblade's much anticipated sequel: ACCIDENTAL ROMANCE. Grab it now for
99¢
while you can!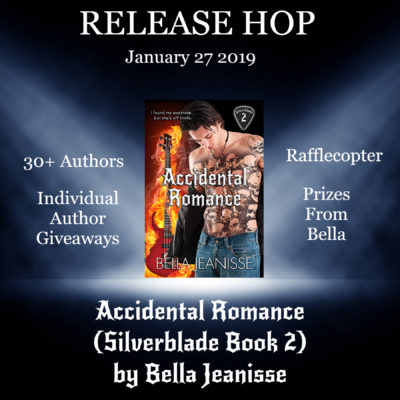 All you have to do is go over to Facebook and "hop" from page to page to find 30+ giveaways!
Here is the
Master List
so you can choose where you'd like to start or follow the hop in order...the link to the next stop can be found just after the Giveaway - that's right...just scroll down to the Rafflecopter to enter.
Be sure to give a 'like' to each of the others as you visit their FB pages, including mine to keep up on what's new with each of us.
Be sure to enter MY Rafflecopter Giveaway for a chance at a $10 Amazon Gift Card (

This Giveaway has Ended

)
but in the meantime, be sure you also enter Bella's

Rafflecopter
giveaway
for a chance at a $25 gift card and more giveaways along the way!
(Winners will be randomly chosen and announced by each author separately.)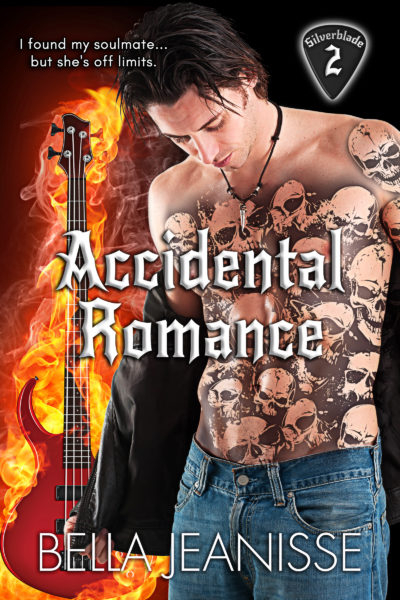 Accidental Romance
- Book 2
Even with the job of your dreams, you can't have it all… or can you?
Bassist Zack Bryant has gotten his big break, but it may come with a price. Zack is torn between his career and the beautiful but off limits daughter of his lead vocalist and mentor, Shane Martin. In order to keep his job with Silverblade, he has to stay away from Abigail. It's harder than he expects, especially when she visits them on the road.
Abigail Turner will do anything to capture Zack's heart. Even though he's made it clear nothing can happen, she won't take no for an answer. Getting to visit them on tour was hard enough, but Abigail refuses to let Zack go without a fight. Now if only she can keep her father from learning of her true intentions.
Paperback:
Get To Know Silverblade
HERE
~*~*~*~*~*~
For hop updates and giveaway results,
we encourage you to "like" author's pages along the way.
~*~*~*~*~*~
Welcome to Unwrapping Romance, my name is Amy Valentini and many of you already know me as a blogger of romance and reviewer, but I am now also a independently published author. I hope you will seek out my books under Amy Valentini and enjoy reading them as much as I have enjoyed writing them for you. I have the first three books in the series, Seekers of the Past currently available at Amazon on Kindle, in print, and free at Kindle Unlimited. The good news is print books are still shipping for free at Amazon until January 31st.
On February 14th - Valentine's Day for those who might have forgotten - I will be releasing a standalone contemporary romance reminiscent of your favorite romantic comedies,
When It Doesn't Stay in Vegas
I hope you will take a chance on my humor and give it a read. I think you will enjoy it and even get a laugh out of the antics of some of the characters. Click
HERE
to read excerpts from this upcoming release plus my others.
Things that happen in Vegas need to stay in Vegas…
After in indulging in too much champagne and a one-night stand in Vegas with a very sexy man, Abby Matheson prays what happened there stays there. Only she can't get the incredibly passionate night with the amazing man out of her head.
Mitch Braxton can't forget the incredible woman he spent a passionate night with only to find her gone in the morning having left no note behind—only her crystal heart pendant. Unable to even recall her name, he fears he will never see her again.
When it doesn't stay in Vegas…
When Abby discovers her mystery man is the CEO of a company her boss is determined to take over, she must forget the man as well as that night. Her hope is no one finds out about Vegas because the merger and her job are now on the line. Discovering Mitch at his sister's wedding is the last thing she expects and even as she tries to keep her distance, she wants him even more. Is it once more just lust or is there wedding magic in the air? And will she lose her heart as well as her career?
Be sure to check out my Seekers of the Past series!
THIS GIVEAWAY HAS ENDED!
a Rafflecopter giveaway
I hope you entered both my giveaway and Bella's before you go. You may visit the next stop on the hop from here by visiting author, Erica Marselas at her Facebook page.
https://www.facebook.com/EricaMarselas
Happy Hopping!


This promotion is in no way sponsored, endorsed or administered by or associated with Facebook.
Giveaways end at 9 am ET January 28, 2019.
No purchase necessary to enter.